from peewee cuckold, interpid UK blog reporter who expounds on the Cuckoldress vs. Cuckquean Dilemma involving glamour babe Alice Goodwin…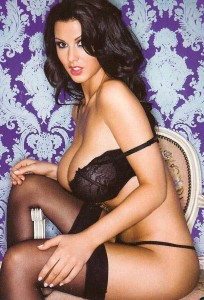 The '2011 White Goddess Of The Year' and winner of 'Zoo Magazine Hottest Body In The World', Alice Goodwin, always hinted at her lust for black men. She previously detailed Lewis Hamilton as her type of man, in response to her disgusted dismissal of the suggestion that white boy Peter Crouch might even be attractive to any girl. And at the risk of sounding a tad crude, she certainly has a body that some might describe as 'built for black cock'.
Well, Miss Goodwin has now proven herself to be as good as her word and reputation, and is now publicly and formally revealed as a black cock slut and Cuckoldress at the same time. Poor cuckquean Lana Murphy, fiance to black football stud Jermaine Pennant, while planning their intended wedding, she found out Jermaine was allegedly enjoying lust-filled romps with his now girlfriend Alice the Cuckoldress. Just as it is slightly intimidating for us normal white boys to hear Alice go on about black men and then to actually see her dating only young, black and rich studs, it must be difficult for all his many female fans, and particularly his gorgeous ex-girfriends, to see him with such a ridiculously proportioned, built-for-sex specimen of a woman. In fact, already the sweet looking cuckquean, Lara Murphy, is predictably and vindictively describing Pennant's new BBC crazed girl as a 'Cheap TV Porn Star'. Hell hath no fury like the cuckquean scorned.
Just as most UK white guys are now very much respectful of how most of our most beautiful models and singers will gravitate to big black men, I think the bitter, cuckqueaned girls such as Lara should appreciate that men as sought after as Mr. Pennant are always going to need the ultimate girl or Cuckoldress in their lives, so as to continue his impressive cuckolding of a nation of envious white boys. Instead, we should all just celebrate the union of Cuckoldress and Blacker of White Girls and wish them all the happiness in the world.
And Lara should settle back into her role as the cuckquean and respectfully raise their little mixed race baby, at least she can cash that monthly child support check, ka-ching! There is no need for her to fixate on the endless interracial sex that her ex will be having with Miss Goodwin, even though it probably will play out all over the tabloids, for the entire nation to see. Yes, it will be humiliating for her. Bless her, I'm sure there'll be many white boys lining up to be her next man if she'd be prepared to settle for a white boy cuckold. We might not have the size or the attraction of her ex, but we would love her and help raise her mocha latte bambino without ever complaining.
You might recall that I have been effectively and pro-actively cuckolded by Jermaine Pennant before, at your behest, so I know how she feels. It was Mr. Pennant who was dating and engaged to my favourite Page 3 girl at that time, the lovely young thing called Amii Grove. Sara, The Cuckoldress, made me re-design her calendar, so as to ensure Amii's exposed parts were covered by a picture of her with Mr. Pennant, and that pathetic, autobiographical interracial sex and cuckolding messages were written by me onto each monthly pic. As such, this image is still ingrained in my mind: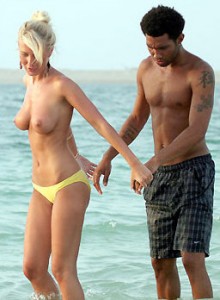 I find myself now being so respectful to Mr. Pennant. So your cuckolding task has worked. He's not a popular football player, but whenever anyone criticizes him in my company, I vocally stand up for him, arguing that he is a good man and has a lot to offer. I almost see him as my Master in some way, if that makes sense.
So, whilst I would ordinarily condemn a man for neglecting his fiancée (and turning her into a cuckquean) for a sexier, younger hottie Cuckoldress, I must say that I fully support Mr. Pennant's move. He is fulfilling a hugely important duty by 'blacking' the UK's most popular girls. He is sending out the message that England's most beautiful girls will flock to his cock, and that when they have it, they will be dizzy with lust. Trust me, we white boy sports cuckolds get the message: loud and clear!