Posted by
Cuckoldress
on Jan 12, 2014 in
Cuckold
|
Comments Off
peewee cuckold notes how white girls in the UK, from his fiancee's BFF to celebs, are Interracial Cuckoldresses
It's been an interesting start to this year for us. We heard yesterday, via text messages, that my fiancee's friend, Jennifer (name changed and, in fact, all names changed in this blog post) has now separated from her white husband. We're still waiting on specifics, but it sounds like she's been cheating on him or rather, cuckolding him! My fiancee is convinced that she's been "fucking a black man, because she always talks about 'big black cock'"! Has Jennifer decided to exercise her rights as an Interracial Cuckoldress and has she chosen black male sexual superiority over white male inferiority? This provoked so many thrilling chats and text messages tonight and today. Here are some examples of them:
Fiancee: "She always mentions big black cock".
Me: "What, always?"
Fiancee: "Yes, every time I've been with her lately, she talks about black cock."
Me: "Wow. Well… how does she raise the subject [I laugh]; does she say 'Hi, how are you? Oh, getting back to big black cock…'?"
Fiancee: "I don't know, she just always finds a way to talk about black men."
Me: "Maybe she's slept with her husband's black friend? You told me she had done in the past?"
Fiancee: "It won't be Damian. Jennifer likes strong black men. He's soft and light coloured. She likes really big black cock! No, it won't be Damian."
Me: "….oh right… Oh my God…"
Fiancee: "…."
Me: "…it'll be hard for her husband to take. Seeing Jennifer with a huge black man."
Fiancee: "Oh it will. Poor lad."
Me: "Why did she marry a white man if she prefers black men?"
Fiancee: "She did love him. But she's always loved big black cock. You've heard her – she doesn't deny it."
Me: "Well this was always going to happen eventually then?"
Fiancee: "Yeah, probably. So I bet she's told her hubby that she's been fucking a big black man."
Me: "Do you think she'll introduce her new man to the group [i.e. the couples, my fiancee and I included]?"
Fiancee: "In time, I think she will. Yes."
Me: "It'll be hard for us blokes 'cause we always sit together. We'll have to embrace this huge black man in her ex hubby's place whilst you girls sit across the room talking about how much better he is than her ex!"
Fiancee: "Yeah, it will be hard on you boys. But I bet you don't say anything!!"
Me: "Oh no way. I wouldn't dare!"
Fiancee: "Exactly. In a way, it's good that her next fella will be a big black guy, because he won't take any shit of you lot!"
Me: "… true…"
Me: "Hasn't she made her husband get her name tattoo'd all over his body?"
Fiancee: "Oh God yeah! She has. He's covered in her name!"
Me: "That's out of order. She's totally fucked him over now."
Fiancee: "Yes, that's harsh."
Me: "I bet she gets her black man's name all over her body now!"
Fiancee: "Yeah, like my other friend Amelia's little sister. She'll get 'Reggie' or something inked on her neckline!"
Little did my fiancee know this, but I had so many erections just reading her text messages, as she described her best friend's addiction to big black cock, and the undertone that proves that my fiancee is aware, and fully endorsing of, the stereotypical sexual superiority of the black male. I hope you are proud of my role here too Empress Sara, as I have created an environment where my fiancee feels totally comfortable in describing black men as superior specimens to her own betrothed. She KNOWS that I am aware of the fact that black men are bigger and better, and that nowadays attractive white women will gravitate to big black cock!
Just today, the two stories in the newspaper that I chose to read out to my fiancee were:
1) How Big Brother hottie and glamour model Hazel O'Sullivan is now dating black football player, Andros Townsend;
2) How Nadine Coyle, from Girls Aloud, is now going to marry Jason Bell, the huge black NFL father of her imminent baby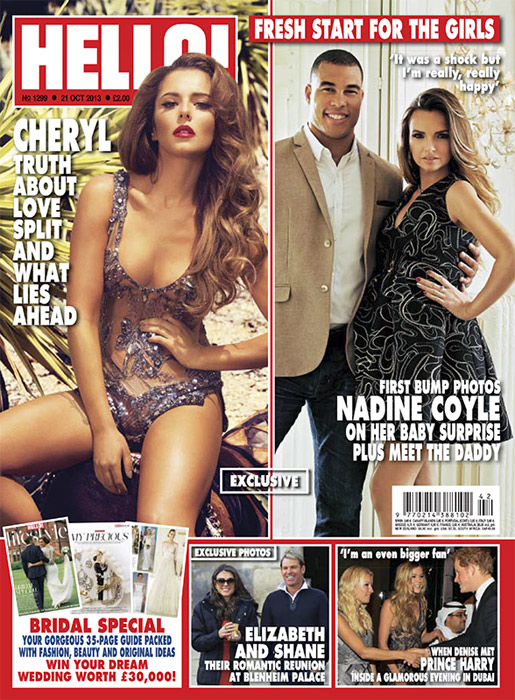 My fiancee took the news in her stride, as if recognizing that ALL white celeb-u-hotties are going black. I had deliberately stayed in my dowdy pjs all day, and ran around doing household errands, so as to emphasize the difference between the virile and satisfying sexual potency of the black men we have been talking about, and the inadequate but domesticated dutiful little whitebois. In time, I dream that Jennifer will influence my fiancee to follow her lead. God knows I've heard enough to realize that my fiancee is in awe of the big black cock!! Only I pray that my fiancee will keep me dangling like a whiteboi puppet as she goes black, and perhaps agree to let me watch as she parts her thighs for a massive black man. Who knows, I may even be allowed to clean her up afterwards!