Posted by
Cuckoldress
on Jul 6, 2011 in
Cuckquean
|
1 comment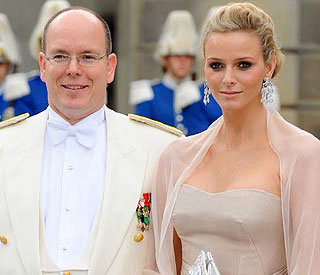 Is Charlene Wittstock, the new Princess of Monaco, a Cuckquean? Newlywed Princess Charlene, blonde Princess Grace lookalike, and former Olympic swimmer for South Africa, knew when she was engaged to the Prince of Monaco, that he had already fathered two bebe's out of wedlock. One to a Nubian flight attendant from Tongo, and another to an American girl, who met the billionaire Prince on a trip to the French Riviera back in the 90's. So, in essence, Princess Charlene knew there would always be a Cuckquean element to their marriage.
However, when Princess Charlene found out there was a paternity test pending for yet a third love child, borne to an Italian beauty, she apparently threw in the royal towel and according to a French newspaper, ran to the South African embassy in Monaco begging for a duplicate passport to leave the country. Prince Albert had apparently locked up her passport and was keeping her as a virtual prisoner on the island principality, most likely anticipating that when she heard the news of additional illegitimate progeny, she might jet back to South Africa!
Then rumors began swirling that the Prince had to bribe Charlene to marry him. It seems to be true since in the royal wedding photos, Charlene the Cuckquean isn't looking very happy at all, her smiles look forced, and she looks very stiff and posed.
Back story – Charlene Wittstock: The 34-year-old Zimbabwean born beauty, moved to South Africa when she was young so her swimming coach mother could ensure she received proper swimming training and thus become an Olympic hopeful. Charlene moved to Monaco prior to her engagement, because she loved the island.
Back story – Prince Albert: Under pressure to produce legitimate offspring as succession to the throne, due to a Monagesque law wisely passed by his late father, Prince Rainier, which disallows any illegitimate offspring to succeed the Prince. Most likely Prince Rainier had already known of at least one of Prince Albert's bastard bebe's. Prince Albert, now 52, wasn't getting any younger, and knew it was time to settle down, most likely into an arranged marriage with a younger woman to bear heirs!
Cuckquean humiliation, beyond what the Princess and public already knew when Prince Albert slipped an engagement ring on her finger, was not what Charlene was expecting. Prince Albert obviously thought of every contingency: 1. Lock up the passport 2. Strike a business deal as in offer a large sum of money if Charlene found out about the latest paternity test.
The royal realities are if Princess Charlene doesn't produce any heirs, Princess Caroline, daughter of Princess Grace, and brother of Prince Albert, assumes the throne and her offspring would do so, in succession. It will be interesting to see if Princess Charlene of Monaco accepts her role as a well-paid royal breeder and overcomes the Cuckquean humiliation.
What is a Cuckquean? For those of you who aren't familiar, a Cuckquean is a female cuckold. Not to be confused with a Cuckoldress. A cheating boyfriend, fiance or spouse puts a girlfriend, fiancee or wife into Cuckquean status when he seeks out and has sex with other women. While the traditional male cuckold is often a wimp or considered to be sexually adequate, in many cases, and certainly in Princess Charlene's case, a Cuckquean is not necessarily considered to be sexually inadequate or unattractive. The cheating male spouse cheats for a variety of reasons despite having a beautiful, desirable mate. He cheats because he's impulsive, a narcissist, cheating excites him, he likes the excitement and danger or the risk of potentially getting caught. There are some relationships where there is a Cuckquean fetish or dynamic where the Cuckquean is cheated on and is excited by the cuckqueaning. This phenomenon is gaining more popularity as Cuckqueans are connecting on the internet.
The bottom line is that at a biological and behavioral level, males are not programmed to be monogamous; therefore, cheating or promiscuous males may just be following their biological imperative. But it's not often that the cheating male spouse does so to turn his wife, girlfriend or fiancee into a Cuckquean. This is usually the result of the male's actions, but not the motivation. Being turned into a Cuckquean can be an embarrassing, unexpected event, or public humiliation such as it was for Maria Shriver.
Update: The Prince and reluctant Princess recently held a press conference to address media inferences that their marriage was essentially fake. The Prince talked for 99.9% of the presser and most media in attendance harked back to the Shakespearean quote: "Methinks he doth protest too much." At the end of the press conference, Princess Charlene was kindly asked by a journalist if she wished to add anything and she timidly commented that she felt everything had already been said. So the press conference did nothing to refute claims that their marriage was a paid arrangement and in fact, probably aggravated such claims…The faux drama continues…