Posted by
Cuckoldress
on Sep 15, 2015 in
Cuckold
|
Comments Off on Cuckolding Stereotypes Prevail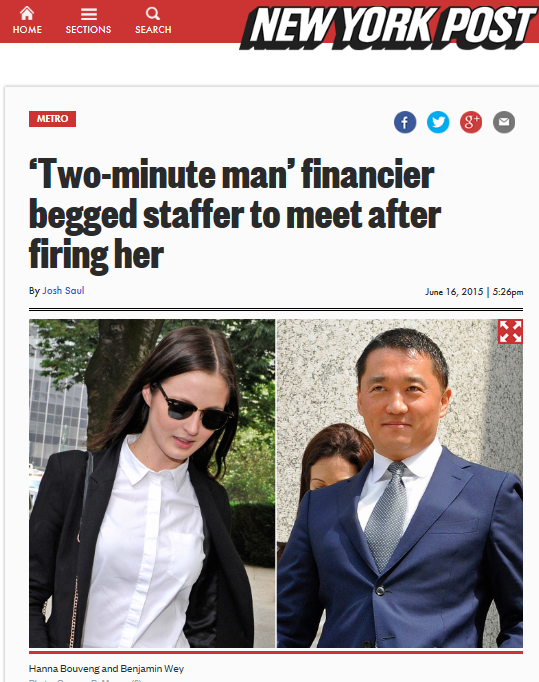 All of the cuckolding stereotypes were personified in this recent news story and high profile trial promoted in the New York Post. The young, beautiful Swedish model as Cuckoldress. The married Asian financier and two minute man as cuckold. The black nightclub promoter as black bull. And in the end, the jury decided in favor of the Cuckoldress who won a multi million dollar settlement from the Asian cuckold.
Hanna Bouveng was hired by Benjamin Wey to work for his finance firm in Manhattan. One of Wey's specialties was to buy out struggling corporations which had already been traded on the stock exchange and sell them to Asian companies looking for a fast track to get on the stock exchange without going through the usual channels. He offered Miss Bouveng a pittance of a salary to serve as his personal assistant, paid the rent on her apartment (over $3K a month plus utilities), but then expected sexual favors from her in return. In the few sexual encounters she had with Wey, he only lasted two minutes. And there were also the stereotypical rumors of Wey being underhung. The sugardaddy cuckold relationship ended when Wey found the black bull nude in her bed and told him to get dressed and leave. Was this because the black stud's anatomy intimidated him? Wey then fired Bouveng. In any case, and in the legal case, Wey was sued by Bouveng for sexual harassment and won.
Many beautiful young women meet older, successful men for sugardaddy relationships on sugardaddy dating sites such as Seeking Arrangement. However, Miss Bouveng and Mr. Wey met at a party in the Hamptons. Mr. Wey probably would have been better suited at being a real sugardaddy to a younger woman looking for job experience or no job experience if all she wanted were the perks of being a sugarbaby. Most sugardaddy relationship perks typically include some type of sexual arrangement. Though it's doubtful that Wey wanted to end up a cuckold blasted in media all over the world. Or maybe it was everything he ever wanted.