Posted by
Cuckoldress
on Mar 23, 2011 in
Cuckoldress
|
7 comments
Do you think the hot interracial cuckold and Cuckoldress porn site, Watching My Daughter Go Black is purely jerk-off porn?  Think again.  There are cuckold sex relationships in all dynamics, colors and forms. Including interracial cuckold revenge, which was most likely the aim of UK soccer (football) star striker Darren Bent who bedded the sexy 23 year old daughter of Sunderland Black Cats football team manager, Steve Bruce. Bruce had just sold Bent to team Aston Villa for the fat sum of £24 million.
Note this is an atypical walk of shame photo. Instead of covering up and hiding from the paparazzi pest, the interracial duo leaving a hotel the morning after a night of hot interracial sex spell victory, Bent giving a thumbs up and Amy Bruce, the Cuckoldress, smiling.
Cuckold Bruce must have been fuming mad, utterly humiliated. He had even forbid his daughter from attending the annual team Christmas party to restrict her access to the players so she couldn't wield her seductress powers over any of the available black studs and wake up unwrapped under the Christmas tree with a big black cock. Now with photographic proof and no denials, it looks like Bruce must accept that his daughter is an interracial Cuckoldress!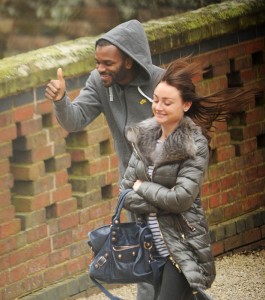 Cuckold: Steve Bruce, footy team manager
Cuckolder: Darren Bent, star footy player
Cuckoldress: Amy Bruce